As the web evolved, its pages became more and more complex. However, no matter how much time has passed, the priority is still satisfying the needs of your visitors. This is the reason you need to improve your website structure.
Additionally, working with a focus on website structure helps you obtain a better SEO standing. This is essential to reach better positions within search engine results pages (SERP) such as Google's. Think of how many people use Google daily and could end up visiting your website.
However, it is important to ask: have you ever thought about your website structure? The way that your sections, pages, and sub-pages are organized can directly affect your user's experience and SEO. Not worrying about it can damage your visibility and results.
That is why you need the information in this article. Here is everything you will learn:
Download this post by entering your email below
What is a website structure?
A website structure is how the website is organized, which refers to the ways its pages are linked together. No matter how large or small a website is, it always has a structure that needs to be properly organized.
For example, think of an online store that sells sports goods.
A quality website structure would offer a menu with its main product categories and departments, such as sportswear, equipment, accessories, and others. Within those, you would find even more specific sections with sub-categories.
This particular choice in the organization will help a potential customer easily find what they are looking for. They might not be so interested in making a purchase if they could not find the right section or product.
This also applies to the way your website is configured and your content experiences.
Your website structure should be laid out on your sitemap and robots.txt files, which help search engine web crawlers find the content they need to index.
Why is website structure important for SEO?
Focusing your work on SEO is not about trying to please a machine or an algorithm.
After all, Google and other search engines are always making changes in the way they scan the web in order to always favor good user experiences. Their goal is to provide the best possible results to their users, after all.
Having an inadequate website structure causes a terrible user experience. Not only you can lose sales from people who cannot find what they are looking for but might also cause you to lose ranking positions at SERPs.
That is because web crawlers read your website as machines, not people. Working towards a better website structure is about the front-end and also the back-end.
This means making sure that your sections are properly positioned as sections, categories store proper content, and the most important pages are at the root.
Lastly, by making a crawler's job easier, it means that your website is of higher quality and can positively affect potential customers. Everybody wins in this arrangement.
How to improve the website structure?
Now that you know how important it is to improve the website structure, you need to learn how to do that. Several SEO techniques relate to how your pages are structured, so this process can have a positive impact on your visibility and results.
Here are the most important steps to improve the website structure for your business.
Plan your information hierarchy
Think back to the sports goods example from the section above. The information hierarchy comes from traditional store departments, so it is something people naturally expect. However, this applies to any other kind of website and content.
When planning your website, you need to think ahead about how the information will be structured.
Consider the main sections, their sub-sections, and what you will have inside all of those. Leaving this organization up to chance will make your website harder to navigate and cause a worse experience.
Use friendly URLs
Another technical SEO tip relates to your address. A website with URLs that are full of codes and symbols does not inspire confidence — and that also directly affects your SEO standings. This is why you should improve your website structure by working with friendly URLs.
A friendly URL says exactly what it is. For example, consider the following URLs:
www.example.com/?p=6743
www.example.com/about-us
It is clear that the second option directs to an "About Us" page while the first is a mystery. Make sure to properly configure your website to work with friendlier URLs.
Create a sitemap
Web crawlers such as Google's need proper guidance to know where to look for your content. The best tool to help is a map. Every website needs to have a sitemap, which is a file that sits at your root and is called upon by these algorithms.
When creating a sitemap, you need to follow a set standard so that it is read correctly. In case you use WordPress, you can use sitemap plugins that automate the process for you under the appropriate guidelines.
Fix existing pages and posts
Have you ever performed a content audit? Part of your work on improving website structure includes making sure that your existing content, whether pages or posts, are properly organized and optimized.
The information hierarchy you planned at the first step will come in handy here. Your adjustments need to take your content organization into consideration while prioritizing how your visitors navigate your website.
Use meta tags
While fixing pages and posts, make sure to dedicate some time to your meta tags. They are special pieces of code that identify your content by giving it a title and description that search engines use. Therefore, they are essential for a good SERP standing.
Fortunately, you can count on some SEO plugins to help with this job in case you use WordPress. They will allow you to create a standard for your meta tags that further improve the website structure.
Avoid script-based navigation
It might be tempting to work with JavaScript or Ajax to create more dynamic navigation menus on your website. However, this will make it harder for web crawlers to read your content and reach your links.
Instead, prefer to create your navigation menu by using HTML and CSS. These codes can be properly read by Google and similar search engines while also being user-friendly.
What are the best tools for analyzing websites?
A website analysis tool is important not only to obtain data on your traffic but also to understand your users' habits.
By learning their preferences and how they navigate through your pages, you are able to create more effective strategies for your business. You simply need to employ the appropriate tools for analyzing websites.
Below, you will find a list of the best tools for analyzing websites in various ways. Check them out!
Google Analytics
We cannot begin to discuss website analysis tools without mentioning Google Analytics. This is a highly versatile utility that allows you to measure multiple aspects of your pages and audience. Such data is very valuable to make decisions on a daily basis.
With Google Analytics, you can better understand the traffic you are getting and see possible opportunities within your metrics and even competitors' sites. Take some time to learn how to use Google Analytics and enjoy the benefits.
PageSpeed Insights
Since having a good performance is essential to SEO, you should work with a tool that helps you determine whether your website needs adjustments in that sense. Google's PageSpeed Insights is a free utility that scans your website for issues that need to be corrected.
It generates a report with its findings and good practices you need to implement to improve the general user experience. Since this is Google's own tool, it will also be important for your SERP standings.
Ubersuggest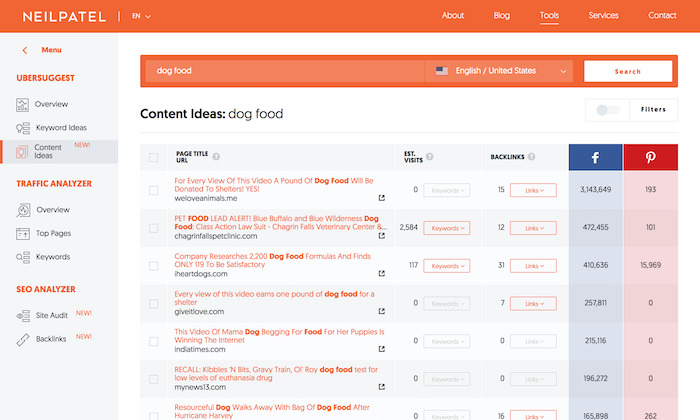 With Ubersuggest, you are able to overhaul your website's SEO by making the right decisions in your adjustments and content production.
By adding your website address to the tool, it generates a report that shows you how well optimized your pages are. It will also display suggestions on tweaks you need to perform and keywords that can drive you the most traffic.
CrazyEgg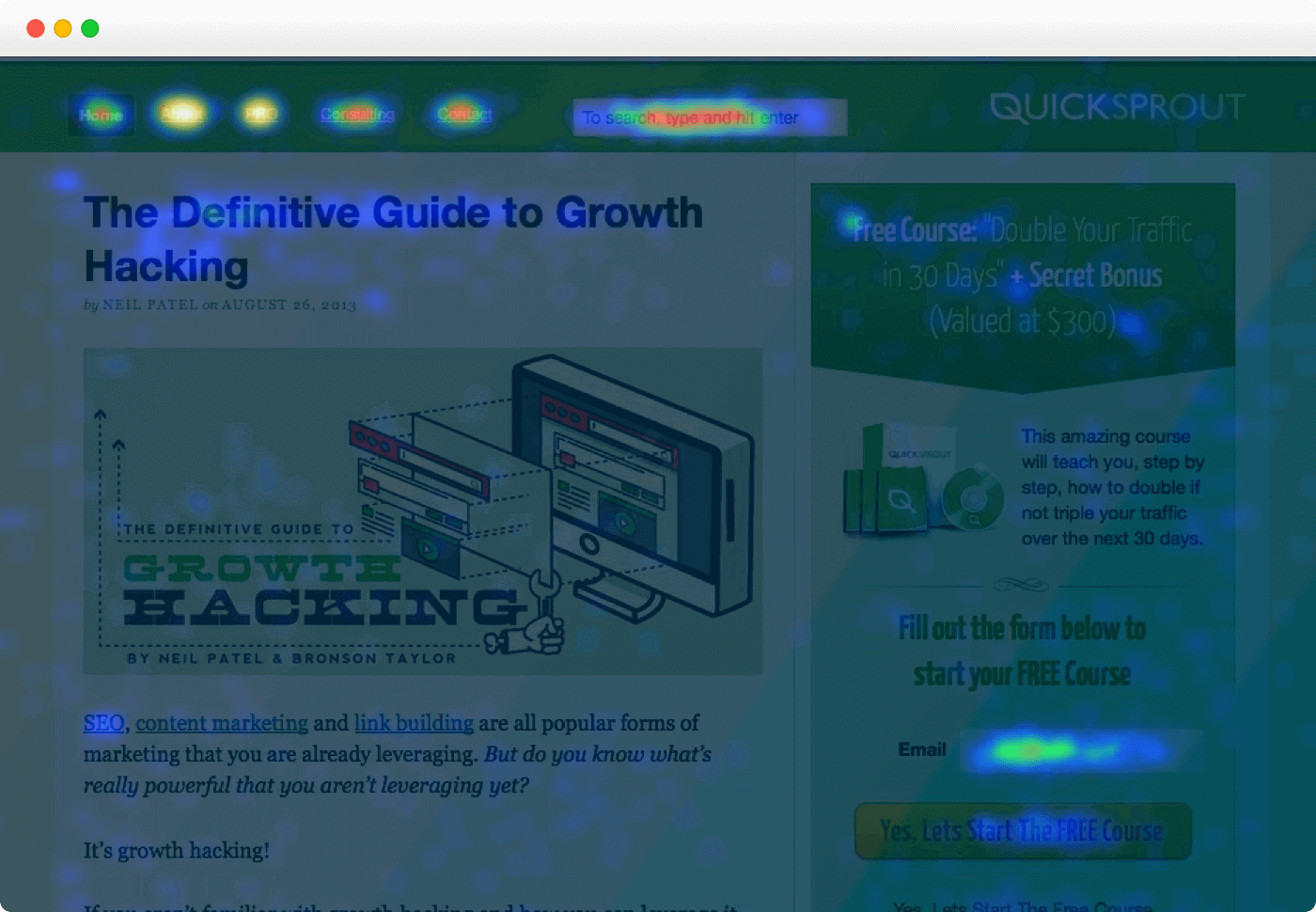 Website optimization is all about learning from your visitors' habits. That is why you need to work with a heatmap tool such as CrazyEgg. With it, you are able to see how your users navigate your pages, the areas they frequent the most, and sections that are ignored.
Using the information from CrazyEgg, you are able to optimize your layout to fit your needs. Understand how your visitors navigate and adapt your pages to direct them where you want. This will be essential to reaching good results.
Deciding to improve your website structure is a commendable decision. However, you should always remember to optimize for people, not bots. As your visitors' behavior changes, you must also adapt your navigation to their expectations and needs.
This will cause you to have better results and reach better positions within SERPs for your content.
Would you like to learn more about the best CMS for marketing? Download our free WordPress Guide for Corporate Blogs and learn how to use this tool to reach your goals.
Find top content freelancers on WriterAccess.
Find top content freelancers on WriterAccess.