There's no question that having a website is one of the most important factors in running a modern business. But making sure that your website looks better than the competition is more difficult.
In fact, 52 percent of users say they will leave a website due to aesthetics. So having a beautiful web design is essential.
Finding the right tool for your website design is a key step in taking your website to the next level. In this article, we'll discuss Canva websites and determine whether or not it is a good tool to use when building your design.
Download this post by entering your email below
What are Canva Websites?
Canva is an online platform that helps people create stunning designs without coding or design experience. Everything from graphics to social media posts, flyers, brochures, and business cards can be easily crafted using the Canva platform.
Recently, Canva has expanded to include a website builder.
The website builder uses templates and the same user-friendly design approach as other types of content on Canva. Users can select a template, edit the details in the sidebar menu, add their own images and copy, and publish the page or share it with a bigger team.
Main Features
Canva offers a few features that are appealing to those who have little or no web design experience. The user-friendly platform can take some of the stress out of design, especially for people or businesses that are just starting out.
Template Library
One of the most significant features of the Canva website builder is the template library. There are hundreds of pre-designed templates for a large variety of web pages.
They also cover a wide range of styles and aesthetics. You can customize them with your own brand colors and typography. There are free designs and some premium designs that come at a price.
Drag-and-Drop Editor
Canva rose to fame thanks to the drag-and-drop editor that made it easy for those without design experience to add images, text, and shapes to graphics and other content pieces.
The editor can size design elements, add overlays, and switch out images with advanced tools that require little input from the user. This makes it a great option for people who lack experience and still want to create professional-looking pages for themselves.
Inexpensive Plan
Canva offers both a free plan and free templates. For someone looking to create a website with a small budget, Canva can be a great resource.
You can even host your website for free with Canva, so long as you don't mind a few Canva branding elements and a "my.canva.site" domain name. If you want a quick, one-page website that doesn't cost you anything, Canva is a great choice.
Collaboration
Another feature of Canva is its collaboration tools. You and others may simultaneously work on the same webpage, so you can collaborate with coworkers in real-time.
This can help you get feedback or assign different elements to specific people on your team without waiting for someone to stop using the account.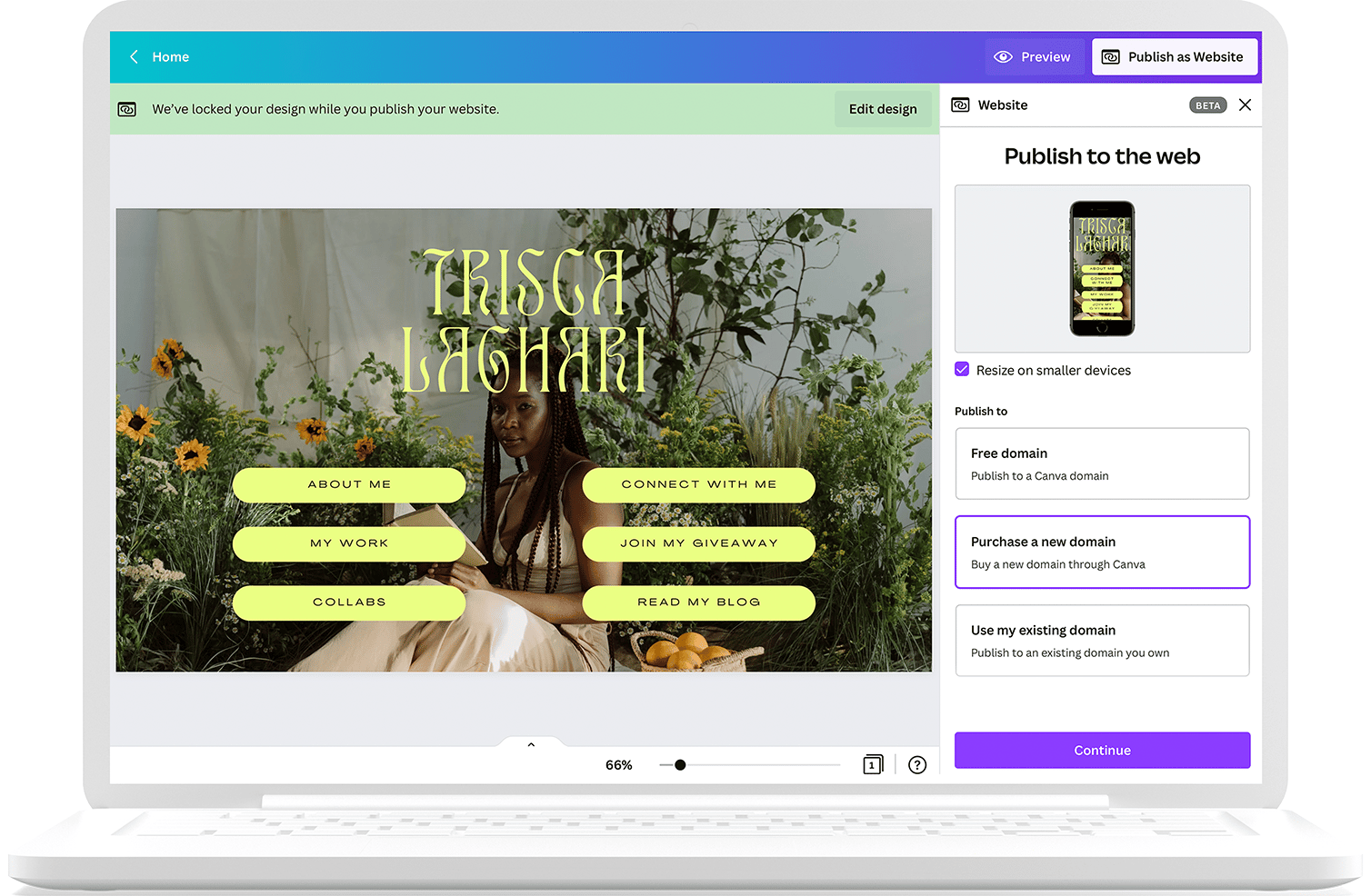 Pros and Cons
There are several pros and cons to using Canva that you should keep in mind as you explore this option. Here are a few of the main considerations:
Pro: Many Customization Opportunities
The variety of template options makes it easy for you to customize and create unique pages. Things like your own color palette and font also help you customize a website.
Pro: Easy User Experience
The Canva platform was created so that people without design experience could develop great visual content.
The website builder on Canva is no different, and it can go a long way toward helping small teams create something beautiful and professional.
Con: Poorly Organized Templates
While there are many templates for web pages, they aren't organized in a clear library. That can make it hard to search for specific page templates and find all of the options with a single search term.
Con: Not SEO-Optimized
Canva websites might look great, but they aren't designed for SEO. Things that are standard in other website builders like HTML heading tags aren't available on Canva, which can make it hard for your website to be discovered in search results.
Con: No Advanced Features
Canva doesn't offer any advanced web design capabilities like eCommerce, blogging, or forms.
It's also an unresponsive design, so it won't automatically adjust to smartphone or tablet screens, which can hurt the user experience of your website visitors.
So, Is Canva Good for Website Design?
When it comes down to it, Canva isn't the best web design platform out there, especially for businesses that prioritize things like SEO and user experience. While it's easy to build a page on Canva, it lacks certain advanced tools that are important for growing and scaling a business.
Canva can be a good option for a beginner or non-professional who is looking to start a simple website.
However, if you want to take it further, you will need to upgrade to a more sophisticated tool or a professional designer who can create a strong, high-end website that attracts customers.
Conclusion
Canva is a great platform for creating sleek, beautiful designs.
The website builder has the same editing capabilities that make Canva great but lacks the advanced tools required to develop highly interactive websites for professional businesses that need SEO, eCommerce, and blogging capabilities.
If you are looking to connect with professional writers, editors, and designers, then look no further than WriterAccess.
At WriterAccess, you'll find experts who can create sophisticated websites for your business and take you to the next level. Start a 14-day WriterAccess trial to get the feel of it and see how it can help you with your next web design.
Find top content freelancers on WriterAccess.
Find top content freelancers on WriterAccess.