One of the best ways to market your business is through content marketing. By developing customized blog posts, white papers, e-books, and more, you can attract more traffic to your website and increase your conversion rate.
When developing a content marketing strategy, you'll likely need to outsource much of the writing to a professional copywriter.
While you could scour the internet for these individuals, it's often best to use a content platform like Contently. However, while Contently boasts a pretty high pedigree, is it the best option for your business?
Thanks to its high profile, Contently can attract some pretty experienced writers. However, businesses also have to pay a lot for these services. If you're a startup or a small company, you may not have the budget to use this service very often.
Also, Contently is in charge of who works in a specific order. While this level of curation can be good in some cases, you may not agree with their pick. In that case, you have to spend more time waiting on a new writer instead of picking one yourself.
Fortunately, there are quite a few Contently alternatives, so you don't have to settle for these setbacks. We've compiled a list of the top five alternatives for your convenience. Let's break them down and see what they have to offer.
Download this post by entering your email below
5 Top Freelancer Writer Marketplaces
Although we're covering the top five options, there are far more platforms out there. However, while you could go with a lesser-known content delivery website, you likely won't be able to attract the best writers from them.
So, if you're looking for high-quality deliverables, these five options are suitable alternatives to Contently.
1. WriterAccess
If you want more control over who can write your content, WriterAccess is the best choice.
This platform helps you connect with the best writers from around the world, thanks to the power of AI. No, you won't be getting AI-generated content. Instead, WriterAccess takes a sample of some writing you like and then uses AI to find writers with the same "voice."
Best of all, you can curate a list of writers you like by browsing their profiles and communicating with them through the platform.
By setting up a "love list," you can post content outlines and be sure that the piece will be written by someone you like. Alternatively, you can assign articles to a specific writer and communicate with them about exactly what you want.
Finally, whereas Contently can charge exorbitant rates for its content, you can either set your price range or ask for writers to submit their rates.
This flexibility ensures you can still get high-quality material at a more affordable rate. Plus, because you also have access to a wide variety of content marketing tools, you can kick your next campaign into high gear almost immediately.
Pros
Flexibility with content pricing
Curate your own list of writers
Use AI to connect with the best talent from around the world
Writers are vetted with a star-ranking system
Money-back guarantee on all content
Cons
Rates can fluctuate for different niches, making it harder to budget
There's a platform fee on top of content payments
2. SkyWord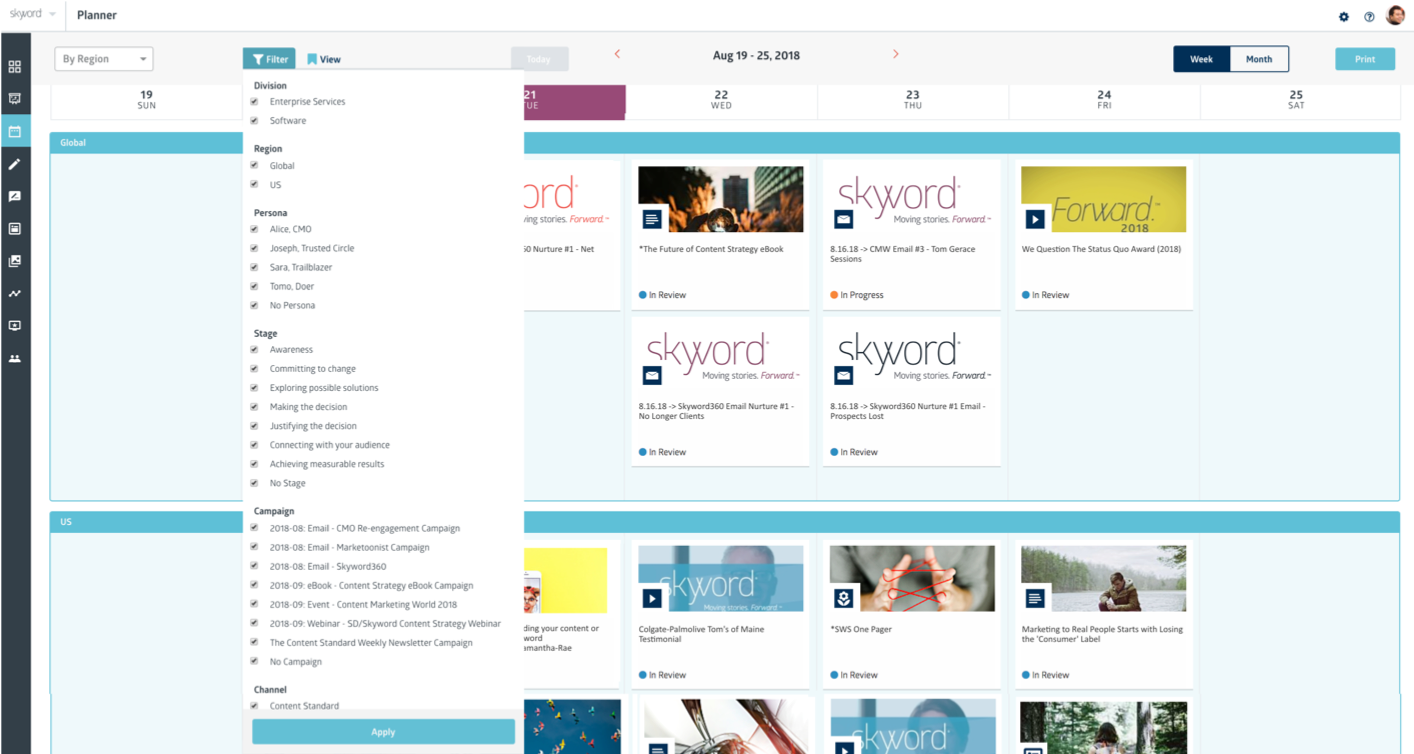 Developing a comprehensive content marketing strategy can be challenging, which is why SkyWord puts a ton of tools at your fingertips.
Not only can you connect with high-quality freelance writers, but you get access to content ideation and planning tools to implement your next campaign as quickly and efficiently as possible.
As with Contently, the staff at SkyWord find the writers for you, although there's a bit more flexibility in who you can work with. That said, you don't have the same control as you do with a content marketplace like WriterAccess.
Also, the cost is a bit higher than a marketplace, but not as high as what you'd expect from Contently.
Pros
Access to top-tier talent
Tons of content management and workflow tools
Curated lists of writers
Cons
Relatively high pricing (ideal for enterprise-level businesses)
Not as much control over who writes your content
3. Freelancer
Freelancer can connect you with freelancers from around the world, although most of them are based in India and the surrounding region. In this case, you post a job and receive bids from individuals.
This means you get competition from writers to complete your work, but you can only receive so many bids. So, once your submissions are full, you have to pick from one of those writers.
Alternatively, you can browse the platform and find someone you want based on their portfolio and writing samples.
Freelancer can help you set your budget and have more control over who creates your content. However, since it is a bidding process, you have to do more work to vet each candidate, and you have to make the final decision regarding who you hire.
Pros
Affordable pricing
Competition from writers can lead to better results
More control over who you work with
Cons
A limited number of bid slots
More work to sift through applicants
4. Panda Copy
Rather than accessing a content marketplace, Panda Copy offers unlimited copywriting for a set monthly price.
This kind of setup allows you to produce a lot of content fast, but you don't get to choose who writes it. So, the results are a bit less enthralling, particularly when trying to solicit high-quality writing from a top-tier niche.
Overall, Panda Copy is excellent if you're trying to scale your content strategy and don't want to spend time finding or vetting freelance writers.
Plus, with unlimited copywriting, you can request revisions to ensure you get exactly what you want. However, if you wind up with multiple revisions, you may have to wait a while before getting the best piece.
Pros
Unlimited content for one price
Curated writing from Panda Copy's in-house staff
Cons
No control over who writes your content
Quality may not be as high as in other marketplaces or platforms
5. Fiverr
If you know about freelance marketplaces, you've probably heard of Fiverr.
In this case, you can browse through tons of "sellers" who are actively marketing their services. Then, once you find a seller you like, you can hire them to produce content for your business.
This setup gives you complete control over who writes your content, but you have to put in more work to find the best writers.
Instead of accessing a marketplace of vetted talent, you have to look through portfolios and samples to find what you like. However, you can filter results based on pricing, so you're sure to stick within your budget.
Pros
More control over who writes your content
More flexibility regarding pricing
Access to talent from around the world
Cons
Requires more work to vet talent
May be delays in getting work back, since it depends on individual freelancers
Get Professional Results With Outsourced Content
WriterAccess has all the tools and resources you need to develop a comprehensive content marketing strategy today.
With a massive pool of talented writers at your fingertips, you can get top-quality content without having to spend a fortune as you would with Contently.
Our proven system of AI sourcing and vetted writers allows you to get the writing your brand needs faster and more reliably. You're in the driver's seat, so how far and how fast can your business grow? Start a free two-week trial and find out!
Find top content freelancers on WriterAccess.
Find top content freelancers on WriterAccess.