One of the common practices in content marketing is to try and get a message out to audiences in as few words as possible. Things like character or word limits on social media and the decreasing attention span of customers have led many content marketers to think that the only important kind of content is short-form snippets.
However, the truth is far more complicated. While it is helpful to know how to create great short-form content, there is still an important value in having long-form content pieces available on your website.
The key is knowing how to write powerful content that resonates with your customers instead of driving them away.
In this article, we'll discuss the value of long-form content, why it matters to your brand, how to write it successfully, and give some examples of great long-form content from different brands.
Download this post by entering your email below
What is Long-Form Content?
Simply put, long-form content is content that ranges between 1,000 – 7,500 words. It gives readers a deep dive into specific, complicated subjects like industry topics, products, and brands.
As a robust form of writing, long-form content tends to be very structural and can be analytical and informative as well.
Long-form content comes in many different formats. Each format has a different objective for brands, but still, meets the requirements of the word length to count as a long-form content piece.
Common types of long-form content include:
Case Studies
White Papers
eBooks
Brochures
Data Sheets
Roundups
Reviews
Guides
Year in Review
Tutorials
Interviews
Analytical Papers
Publication Articles
Formal Documentation
Long-Form Content vs. Short-Form Content
Long-form content is often compared to its opposite, short-form content. Short-form content is, as it implies, shorter than the long-form version of content and tends to be under 1,000 words.
Short-form content is more common to have, as it is easier to create and takes less time and research to put together.
Formats of short-form content include:
Blog Posts
News Articles
Infographics
Social Media Posts
Advertisements
Press Releases
Announcements
Short-form content is created to help convey information quickly to audiences. As such, the topics don't get too in-depth and instead remain on the surface level.
This is helpful as the information is easier for audiences to consume and can be shared easier.
However, long-form content allows brands to dive into topics while adding their own originality and research. While long-form content takes longer to create, both because of the research that goes into it and the length, it provides more information and educational experiences for audiences.
A well-rounded content strategy will have both long and short-form content elements in it, as each is attempting different goals that are both valuable along the customer journey.
Having both in your plans allows you to target a wider range of audiences and increase your reach.
You can create high-quality long and short-form content by working with professional writers. Get matched with the perfect writer at the WriterAccess marketplace during the free trial!
What are the Benefits of Long-Form Content?
Long-form content, as an educational, informative type of content, allows you to have access to many benefits that aren't usually available in short-form content writing. Let's look into some of them now.
Better SEO
While all content should have a keyword focus, long-form content gives you more opportunities to build out your keywords and include a variety of supporting short and long-tailed keywords in your copy.
The structure of a long-form piece of content includes things like multiple headings, links, and multimedia that further increases your odds of performing well on SEO rankings.
Build Authority in Your Brand
Long-form content gives you the ability to position your brand as a thought leader for your industry. Rather than the surface-level detail in a short-form content piece, long-form content allows you to expand your ideas and offer valuable insights to your audiences. It lets you inform your audiences about your own levels of expertise.
Get More Backlinks
Valuable content is often used as a source for other brands. If you can create long-form content that includes valuable information and important facts, then you increase the chances of other companies in and out of your industry to backlink to your content.
With that made, you will increase your authority on Google and your chances of reaching new audiences.
Provide Help to Your Customers
Ultimately, the goal of long-form content is to give your audiences the detailed information they need. Whether you are exploring an important industry topic or giving a how-to guide on a new product, your long-form content is providing value, help, and education to your audiences.
How to Write Long-Form Content
Now that you know what long-form content is, let's talk about some best practices on how you can write it yourself. Your long-form content needs to be detailed and correct to have an impact.
Here are some of the steps you need to take as you write:
1. Section Off Your Main Ideas
Long-form content needs to be broken into sections and different headings. Think about it, would you want to try and read a 7,000 word paragraph?
Headings, subtitles, sections, and chapters will break up your content and ensure that your audiences can understand and digest your long-form content piece.
2. Pick Your Topic and Keywords
The keywords are an important part of your content, whether it's long or short-form. Carefully selecting the topic and supporting keywords that you want in your long-form content ensures that you are optimizing the piece for SEO and increasing the chances of being found organically through search.
3. Describe the "So What?" of Each Section
After breaking your outline into sections, you need to make sure that each section has a goal or purpose, otherwise known as a "so what".
The reader of your content needs to understand the point of each section and why it's included in the larger piece. That helps make certain that your readers are getting the most out of their experience.
4. Keep the Introduction Short
Long, winding introductions will turn audiences away quickly. When a reader clicks on a long-form piece of content, they want to know that the word count is full of valuable information.
A long introduction might lead them to think that there isn't much value in the article and it isn't worth their time. Instead, quickly introduce the topic and then move on to the valuable content.
5. Craft a Catchy Headline
A large part of the readability of an article is having a headline that draws attention. You are asking your audiences to give a significant portion of their time to read the article, so you want to encourage them to think it is worth their while.
A catchy headline encourages clicks and can drive the point of the content home.
3 Long-Form Content Examples
Brands are using content every day to educate their audiences and provide value that goes beyond the surface level.
Here are three great ways in which brands are using their content to achieve their content marketing goals.
1. Rock Content Magazine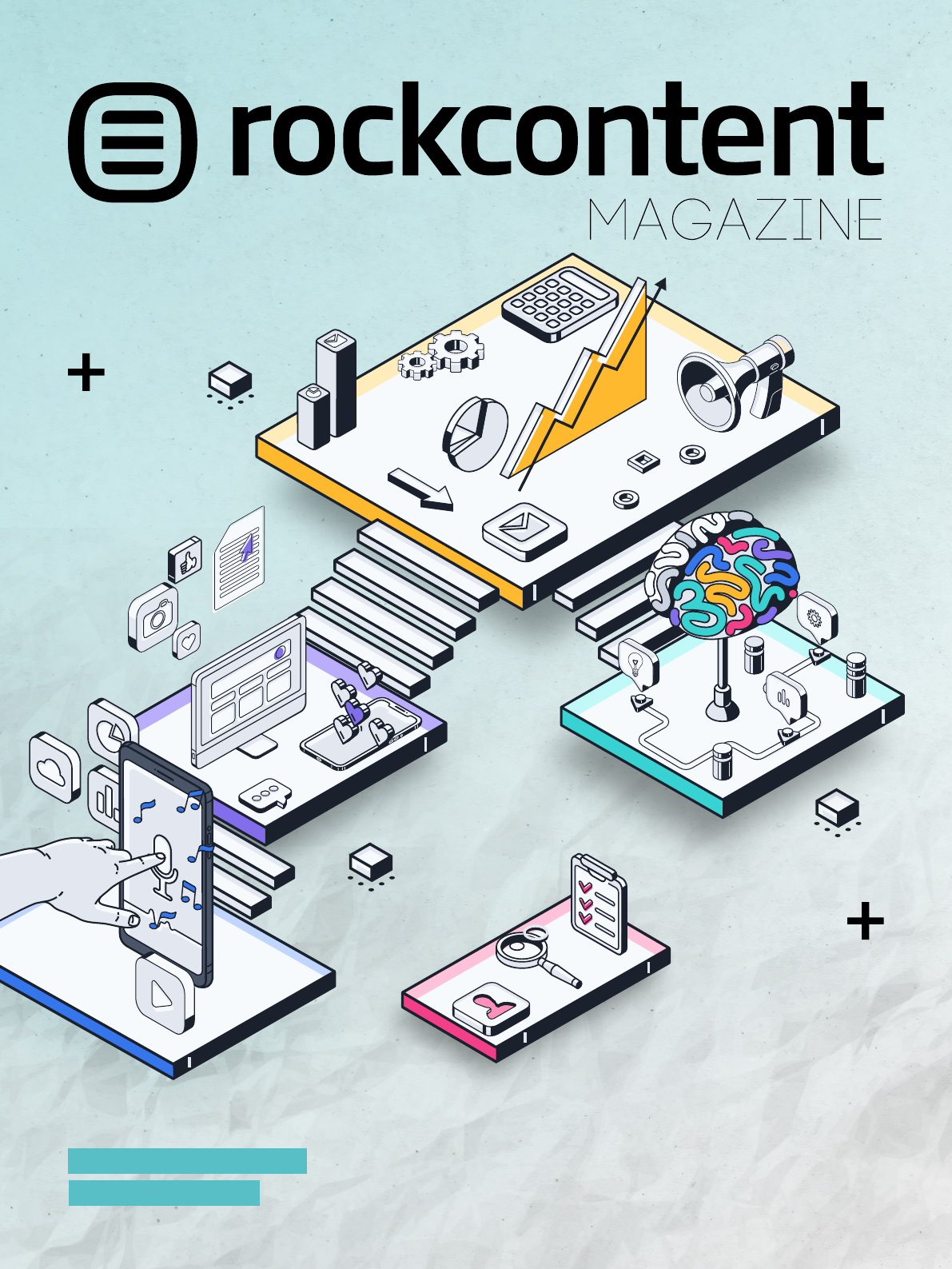 We can't talk about long-form content without mentioning our own! Online publications are one way that long-form content can resonate with audiences.
The Rock Content Magazine provides detailed, in-depth information that is valuable to our audiences. Because it's a recurring publication, the magazine also encourages more people to read it as it isn't an everyday article that is published every. To read the latest issue, click on the link above.
2. Chevrolet 100 Years of Icons
Chevrolet recently celebrated 100 years of business and decided to create a long-form piece of content that highlighted the value of the brand and the visual excitement that the car company can bring.
The article examined every major automotive development in the company as well as positioned the brand alongside American culture.
3. Airbnb Annual Report
Annual reports might seem like a dull type of long content, but when done correctly they can be very engaging and entertaining.
Airbnb used real user interviews and testimonials to create a more interesting experience while explaining how much the company has grown and evolved over the years.
Wrap Up
Long-form content is often overlooked but has many different benefits for brands. When you know how to write a content successfully, you can connect to your customers on a deeper level and create more sales-focused content that still provides value.
Having long-form content on your website is also an important step toward improving SEO and having a variety of content available.
One common type of long-form content is an eBook. eBooks focus on a specific topic and dive into detail, allowing customers to explore in-depth topics important in your industry.
However, it takes skill to create one. If you are interested in learning more about how to write a great eBook, check out our blog on how to create an eBook.
There you'll learn all the steps needed for great eBook content. Click on the link above to get started now.
Find top content freelancers on WriterAccess.
Find top content freelancers on WriterAccess.