Your website is the online heart of your business.
To keep it beating, you need potential customers or clients to find you, right? You also need them to convert.
Essentially this means you need to know what is working and what isn't when it comes to everything you put on your website.
You need insights into who is visiting and their behavior once there. Which content and keywords are drawing them in and holding their interest?
This is all valuable information. But how can you best obtain and use such information to strengthen your content strategy?
This is where marketing analytics comes in, compiling all that valuable marketing information in one place and allowing you to discover the patterns of your website visitors.
From there, you can develop better content strategies.
The best way to help compile and organize your data is by utilizing a web analytics tool. And that's why we made the following list of the best options in the market:
Download this post by entering your email below
1. Google Analytics
Web analytics tools can track and measure website activity, offer recommendations, and prepare timely reports for review.
In this sense, Google Analytics is perhaps the most well-known and popular tool available today.
It allows you to analyze various factors, including website traffic, bounce rates, and conversions.
With its well-organized dashboard for ease of use and viewing of important metrics, Google Analytics remains one of the better free tools to track and analyze web traffic data. Discover the secrets of Google Analytics with our free guide!
It is a great option for anyone, including beginners and small businesses. For advanced features, try the paid version, Google 360.
2. Hotjar
If you want to know what your website visitors are doing and why, Hotjar can help.
Hotjar is a website analytics tool combining traditional analytics with website visitor behavior data.
A visual display, or heatmap analysis, and session recordings provide valuable insight, alerting you to areas in your content that need reviewing.
This web tool is easy to set up and easy to use.
Start with their free plan, which allows up to 2,000 pageviews per day. If you need more, consider adding the Hotjar Business version starting at $99 per month.
3. Matomo
Matomo is an open-source analytics tool you can use to measure your website's traffic and gain information on your visitors' behavior.
With key metric tracking capabilities and a customizable dashboard, you stay involved in the process, pulling the information you need the most.
Matomo also allows you to store customer data in-house on your own server, protecting the privacy of customers, as opposed to the cloud-based storage with Google Analytics.
The On-Premise version starts free but with the option to pay for advanced features. You can also choose to go with Matomo Cloud, which offers data hosting for a small monthly fee.
4. Mixpanel
Mixpanel is an advanced, scalable business analytics platform that tracks customer actions and behaviors along with your key performance indicators (KPIs).
An important feature of this tool is you can use it on all your websites and mobile apps to gain valuable insight across the board.
In turn, you can create or modify your content governance structure and make sure your messaging is consistent.
Additional beneficial features include team dashboards, interactive reports, and real-time data.
The free version for up to 100K tracked users per month, has some limited functionality. If you find you need more, go for a growth package starting at just $25 per month and add to it as your needs grow.
5. Crazy Egg
There's power in knowing where your website visitors go.
Add to that the ability to view how they are interacting with the different pages, and you'll know where you need to strengthen your content.
Crazy Egg is a visual web analytics tool designed to help you track, evaluate, and increase your conversion rates.
It comes with its signature Heatmap analytics tool, which shows you what your website visitors are doing, how they are interacting, and what is most popular.
Other valuable features include user recordings and A/B split testing.
Expect a low monthly cost, with the ability to add more whenever needed.
6. Clicky
Clicky is one of the better web analytics tools for getting real-time data and providing all the information you need to optimize your website and increase conversions.
Track where your visitors are staying longest and where they're going next. Review page visit data and heatmaps. Customize your tracking.
You can even monitor your stats away from the office on Clicky's mobile version.
While the basic version of Clicky is free, you can increase daily views and capabilities, including split testing or outbound link tracking, by upgrading to a paid plan.

7. Contentsquare
Once a standalone tool, Clicktale has now joined forces with Contentsquare to offer a more robust web and mobile apps analytics tool.
The focus is on the digital interactions of users, offering insights to help optimize and improve not just your website but your overall digital marketing plan.
Patterns of web user actions and behavior are displayed utilizing intuitive heatmaps and session replays, bringing your customer behavior to life right before your eyes.
The visual analysis features simplify the process of determining where there are weaknesses in the buyer's journey as it relates to your website, mobile app, or content.
With such information, you'll know where to make improvements and help increase your conversion rates.
8. Mouseflow
Mouseflow is a behavior analytics tool providing replays of visitor experiences and alerting you to potential reasons why they leave or fail to convert.
User behavior tracking is presented in various ways, including session replays, heatmaps, conversion funnels, and form analytics.
Utilize these to pinpoint where you can strengthen your content strategy and optimize your website.
Start with the 14-day free trial. From there, you'll have a variety of packages to choose from.
The pricing structure is based on pageviews and the number of websites, and range from $29 to $399 per month. They also offer an Enterprise level with unlimited page views and websites.
9. Kissmetrics
How a visitor moves through your website can provide valuable insight into how effective your content and design are and if they lead to conversions.
Kissmetrics excels at this, tracking individual visitors to your website and putting you on a personal level with that visitor to understand their behavior.
This data becomes highly beneficial for optimizing your marketing funnel and getting visitors to click on that convert button.
Kissmetrics has a simple to use visual format and full tracking of website traffic, trends, and behavior changes.
This is a paid resource so try it out first for a month to be sure you're comfortable with its interface and results. After that, you can select pricing based on your current needs.
10. Fathom
If you're concerned about protecting the privacy of your customers or visitors, consider using Fathom as your web analytics tool.
Fathom doesn't collect personal data of visitors, nor does it utilize cookies.
What it does do is collect the data needed to see how visitors are interacting on your website. You can also track your KPIs on its easy-to-use dashboard.
Fathom sends you a report via email every week, alerting you to the performance of your website. If you have several websites, you can track them all and receive reports on each one.
Plans start at $14 per month for up to 100,000 page visits.
11. Countly
Countly is an analytics platform you can use across all your websites and mobile applications. The focus is on improving the buyer's journey by providing you with the data you need most.
Countly tracks individual online sessions in an effort to help you understand how your website is currently being used by visitors.
In turn, you can identify what content is working and where you need improvements.
An additional benefit of using Countly is that you can build your own plugins to add analytics unique to your business needs.
Countly offers both on-premises and cloud versions. Their Community edition is free, and their Enterprise Edition offers tailored plans to fit your requirements.
12. Adobe Analytics
When it comes to web analytics, one of the best tools available is Adobe Analytics.
This tool allows you to collect and then analyze all that is happening on your website, including the number of visitors, who these visitors are, how long they dwell on your content, what actions they take, and more.
As a bonus, it is also part of the Adobe Cloud offerings, providing you with multichannel data collection to include web, voice, and more.
Learn what content is attracting visitors, where they are staying the longest, and then learn from that how to restructure, revise, or rewrite content throughout your website.
13. StatCounter
If you're looking for free web analytics tools that let you explore what they can do before you put your money down, then StatCounter is a terrific option to look at.
It's free for up to 500 page views, making it an especially solid fit for beginners.
It's also a popular option for marketers, website owners, and entrepreneurs who are looking for a reliable, user-friendly option that makes tracking visitor activity simple.
Start with the free version to learn the ropes. Then upgrade to gain access to additional features and functions, including paid traffic tracking, detailed landing page analysis, and more.
14. Amplitude
User experience is a huge factor in how well a particular site is going to rank, so it should be the goal of every marketer, business owner, and website admin to offer a stellar one.
Web analytics platforms that go well beyond simply keeping track of your traffic can help.
Amplitude is a great example, as its main focus is on tracking and analyzing user experience.
Use it to run A/B tests, keep track of unlimited activity logs, segment your users based on various actions, track product usage, and more.
Try it for free for up to 10 million monthly actions. Then upgrade to access more data options, additional features, etc.
15. HubSpot
HubSpot is a lot more than a simple web analytics tool. It's actually a full-scale marketing platform with analytics capabilities included, so it's a great pick for those looking for something to grow with when it comes to their marketing campaigns.
Most marketers approach HubSpot as a one-stop analytics tool for keeping track of customer life cycles.
It gives you a fantastic way to manage all your campaigns in one easy place, the better to make smart, data-based decisions on an ongoing basis.
Compile data on key website performance metrics, access comprehensive reports on each of your marketing channels, and leverage HubSpot's analytics features to determine which marketing approaches are making the most difference for your bottom line.
16. Plausible
Plausible is another great option for marketers looking for web analytics tools that are viable alternatives to the ubiquitous Google Analytics.
It's user-friendly, it's lightweight, and it's open-source.
It's also incredibly privacy-friendly, so it's a great pick for marketers who are looking to step further into a data-conscious, cookieless future sooner rather than later.
Plausible offers its users clean, simple web analytics displays that are easy for even beginners to understand at a glance.
Its lightweight nature keeps your site lightning-quick and user-friendly. It's also truly useful when it comes to segmentation, campaign tracking, and so much more.


17. Simple Analytics
And if privacy-conscious web analytics tools are something you want to explore further, Simple Analytics is a terrific solution.
By design, it's completely compliant with all of today's major privacy policies, including GDPR, CCPA, and more.
Simple Analytics makes it a point to encrypt all data, and it doesn't store any personal data about your customers and web visitors.
The website owner or marketing pro that owns that Simple Analytics account also owns the data and no one else.
And, best of all, it offers all this in tandem with stellar analytics capabilities that will truly support your ongoing marketing campaigns.
18. VWO
A/B testing is an important part of any well-rounded marketing campaign.
It helps marketers get a better read on how different marketing approaches stack up against one another, the better to make future strategies more effective right out of the gate.
VWO is one of the best web analytics tools out there today for taking the guesswork out of effective A/B testing.
Gain access to helpful details that can help you spot an underperforming marketing experiment early. Import and organize all of the key metrics you're most interested in, as well.
19. FullStory
The more you know about the big picture when it comes to your visitors' experience with your site, the more effective you'll become at making marketing decisions that work for everyone.
FullStory is a web analytics tool that is all about making that process simple and approachable.
The tool's user-friendly functionality facilitates making connections between your data and what it really means when it comes to your average user's customer experience.
In this way, it helps you increase your revenue, improve customer retention, boost efficiency, and more.
FullStory offers both business and enterprise service tiers, each with demos available so you can evaluate your experience before putting your money down.
20. SEMRush
When it comes to web analytics tools that absolutely every marketer should consider adding to their ongoing strategy, SEMRush is as popular and widely trusted as it is for some very good reasons.
It's also absolutely the way to go if you're looking for solutions that are strongly SEO-focused.
In addition to offering marketing pros valuable tracking, data management, and analytics options, it comes with everything you need to boost search rankings, choose smart keywords, and more.
Subscriptions to SEMRush do represent an investment, ranging from just over $100 to just under $500. However, you can partake in a 14-day free trial before making a deeper commitment.
21. Smartlook
If you're looking for free web analytics tools that will let you get started with analytics without making a financial investment before you're ready, take a closer look at Smartlook.
A fully free tier is available, as is a full range of additional tiers, making it easy to pick a solution that's right for your budget.
Smartlook specializes in offering marketers and web admins truly insightful data designed to help optimize websites, figure out where (and why) your users drop off, and settle on solutions that encourage people to behave the way you want them to.
And best of all, Smartlook's interface is clear, user-friendly, and easy to get started with, making it a snap to embrace analytics the way every business should.
22. Yandex Metrica
Yandex Metrica is a valuable tool to help better your website content in that it allows you to simply yet strategically evaluate traffic and analyze visitor behavior.
This all-in-one website analytics tool is free and valuable in collecting traffic metrics, so you know not only the number of people visiting your site but who these visitors are as well.
Behavior analytics is also a key component, providing you with click maps, scroll heatmaps, and session replays.
With these, you can gain insight into the actions individual visitors to your website are taking and find out what they are searching for while there.
Use what you learn to add, refine, or develop content to meet their needs.
You'll benefit from the descriptive reports provided by Yandex Metrica in particular. Your content management team, as well as your SEO specialists, can utilize these reports to find ways to increase traffic, gain readers, and, ultimately, boost sales.
23. Leadfeeder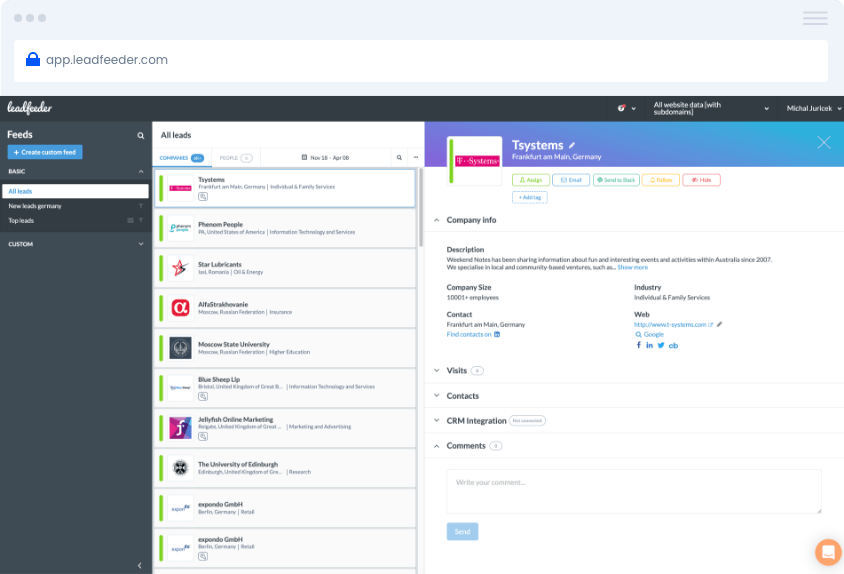 Leadfeeder is a unique web analytics tool to help in your marketing efforts and in the development of relevant content that is most in demand.
To start, you'll learn which companies visit your website, all without requiring them to fill out a contact form or enter any information at all.
The Leadfeeder tool will also gather contact information for the company's employees, allowing you to follow up with them even though they didn't make an official inquiry about your service or product.
Generating leads can be time-consuming, and with the help of Leadfeeder, you can focus on the higher-quality leads that are already checking out your website and what you offer.
It only takes a few minutes to install the Leadfeeder tracker, and you can test it out for 14 days before determining whether to commit to a paid plan.
24. Segment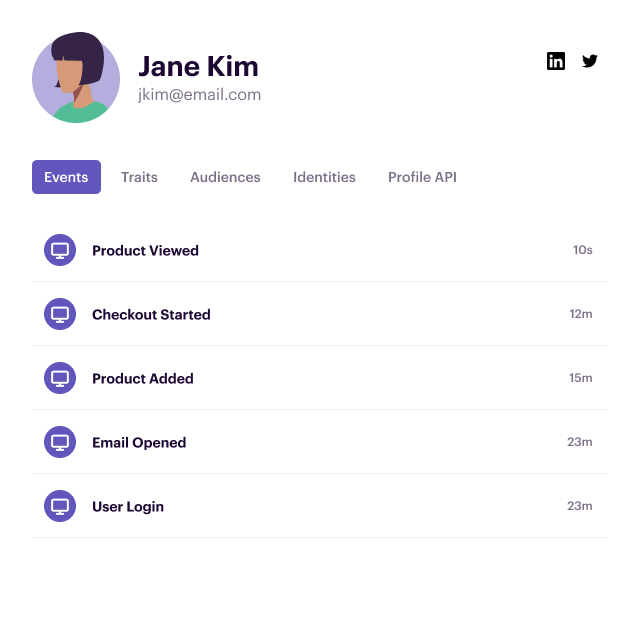 Every business needs a way to store collected data in a consistent and effective way so it can be referred back to without wasting valuable time and resources.
Segment offers a viable solution for this by providing an infrastructure that not only collects customer data but also cleans and controls it as well.
Whenever you refer back to your data, you can quickly assess what is currently happening and identify where you'll need to focus the most of your attention on bettering website content.
The Segment tool can integrate with a wide variety of other useful tools as well, such as Salesforce or Google Analytics.
You can begin with a free account but may find its limited functionality is not enough and move on to a paid plan.
Don't leave your business up to chance, with fingers crossed that your website will work the magic you want it to with visitors.
Get in there and find out what is and isn't working by using any of these web analytics tools. Also, check out the 11 Best A/B Testing Tools to rock that content strategy!
Find top content freelancers on WriterAccess.
Find top content freelancers on WriterAccess.