"Thanks" to the COVID-19 pandemic, many people have realized that it is possible to work from home and make a living.
It is entirely possible to earn a steady income without ever leaving your home. For businesses, they are finding that it is easier and more cost-effective to hire freelancers instead of a full-time employee.
With that being said, many people are turning to freelance to begin a new career path. Whether you are looking to become a digital marketer, content creator, graphic designer, or something else entirely, you need to ensure that you have the right tools at your disposal to find quality work and clients that will help you be successful.
This means knowing where and how to acquire new jobs and clients, which may be on-off projects or long-term commitments.
In no particular order, here is a look at nine of the best freelance websites for jobs.
Download this post by entering your email below
#1: WriterAccess
We may be a little biased on WriterAccess since it is now a Rock Content company, but the truth of the matter is, that it is a great website to find freelance writing jobs for both newbies and experienced writers.
Writers are heavily vetted to ensure that they're capable of living up to the platform's high waiting standards. Freelancers interested in working on the WriterAccess platform will create a profile and take a writing test.
After the completion and review of this test, the WriterAccess team will assign you a star rating between two and six stars.
Your star rating is what determines the projects you are eligible for and how much money you're able to make while working on the platform.
It's possible to improve your star rating over time by performing top-notch work and completing projects on time.
The platform utilizes AI-style matching technology, casting calls, and keyword search for clients to find writers.
Hundreds of different categories can be searched for, and to ensure you are found during these searches, these keywords (and samples to prove your writing ability on the subject) should be included in your profile.
#2: Contently
Contently is often said to be one of the best freelance websites to find jobs that pay well. There are numerous clients on Contently that offer jobs in various industries like finance, healthcare, and technology.
To become a freelance writer on Contently, you will need to create your free profile and build a solid portfolio. Then, you wait for a client to contact you about prospective freelance work.
Keep in mind that it may take a little bit of time to get your portfolio together on Contently, as you need to add writing samples, type of writing, skills, and more. However, in the end, it is well worth the work.
Remember, the more details you can provide in your portfolio, the higher of a chance you have of being found by potential clients and getting that job opportunity you want.
You cannot search for jobs like you can on some platforms, but clients can search for you. With that being said, Contently serves as a nice supplement to other writing work while you're waiting for Contently to work its magic for you.
#3: Freelancer.com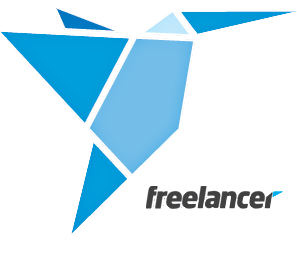 Freelancer.com is yet another quality freelance website where freelancers can find access to a variety of work in several industries, including social media marketing, web development, and content-related projects.
Many large corporations use Freelancer.com, such as IBM, Google, and Amazon.
Signing up as a freelancer on the website will require some background information, which includes work experience, education, and skills.
This will grant you access to potential freelance opportunities, as well as contests that you can participate in to earn money and reviews.
Freelancer.com takes a 10% commission fee from the total offer price. This is true for both fixed projects and contests.
One thing many freelancers like about Freelancer.com is that it has a mobile app. It is also free, although there is a paid option that provides priority access to listings as well as reduced commission fees.
It is said that freelancers who sign up under the Preferred Freelancer Program earn $1,000 extra over six months on average.
#5: Fiverr
Fiverr is a huge freelancing site that first came around in 2010. Reportedly, big companies like Facebook and Netflix use Fiverr. This platform is free and offers a wide range of freelance categories, as well as online courses.
It used to be a $5 service platform, but it has grown exponentially since then.
So, the way Fiverr works is that freelancers (aka sellers) will sign up and list their services (gigs) at a set price. Businesses (buyers) can browse through all of the available categories to find what they need.
As soon as a gig is chosen, the buyer is charged, and the money is held with a 20% commission fee. This means you get 80% of the total offered price. Fiverr offers payment protection and 24/7 customer support.
#6: Toptal

Toptal is a freelancing service platform that strives to locate the top 3% of all talent. They have a very rigorous screening process, only accepting a few out of the thousands of application submissions they receive each month.
This is one of the many things that sets this platform apart from other freelance job sites. For example, if you're able to get through the intimidating onboarding process, the chances are you will have the opportunity to work with some big names, such as Shopify and Airbnb.
Keep in mind that if you are interested in applying that Toptal focuses on designers, developers, product managers, project managers, and finance experts.
If you fit into one of these categories and want access to top-notch projects, then this is a great place to begin.
#7: Jooble
Jooble is more of a search engine than anything that allows freelancers to quickly and easily gain access to a ton of online sources around the globe, including freelancing platforms, online job boards, social networks, corporate websites, and even classifieds.
One of the main advantages of Jooble is that you get access to all of these potential job opportunities in one place. There is no need to visit multiple job sites or job forums to find freelance opportunities.
The downside to Jooble is that you don't apply to the platform, so when you find a job you're interested in, you will apply for each one individually by whatever means the company has dictated in their job search listing. This is because it aggregates the job listings from other sites.
If you don't want to miss a new job related to a certain keyword, make sure to sign up for the site's e-mail alerts.
#8: Behance
Owned by Adobe, Behance is a job search website that curates its listings from numerous fields, including writing and design.
Searching for potential jobs is free of charge, and you can search by location, industry, or specific job type. You can also make important, long-lasting connections.
Behance serves as a great way to build your portfolio and share your creative potential with those who need graphic design, content creation, and illustration help.
Keep in mind that this is similar to that of a social networking site, so you will want to make sure that you are following profiles that cater to your needs so that more opportunities will pop up in your news feed, giving you the chance to discover more freelance work.
Further, you want to ensure that you are filling out your portfolio whenever possible using the best possible samples you have.
When you do this, your work is put in front of others. If your work receives the recognition of a featured project, then you will gain that much more positive exposure.
When you put yourself and your work out there, you never know who may come across it and be interested.
There is also a job listing board where you can search for jobs in various fields and industries and get leads on more freelance work opportunities.
You can see whether the job is full-time or remote, the entire job description, the salary, and more. And, rather than being taken to an outside website, you can apply for the job of your choice directly on the Behance website.
Behance does tend to cater more towards creatives as opposed to more technical jobs. Most often, freelancers will use Behance as a supplement to other sites listed here.
#9: Guru
Guru is considered one of the biggest freelance marketplaces on the internet. It has over 800,000 employers and two million freelancers listed, which means there is the potential for job opportunities in an assortment of fields.
Guru focuses on fields like marketing, sales, management, writing, design, development programming, education, engineering, and legal. So, there are several fields in which a professional freelancer can find jobs.
The site has a verification process to ensure that freelancers are legitimate. Guru is free to join and then offers low fees and secure payments, which helps create a reliable process for both freelancers and employers.
There is a paid version available that allows freelancers access to lower fees, more bids, an increased rating, and the ability to send highlighted bids.
Guru is a great place for those beginning in the freelance industry.
Notable Mentions of Freelance Websites for Jobs
Some other notable mentions of freelance websites are:
Skyword
Constant Content
The Writer Finder
Online Writing Jobs
ProBlogger
BloggingPro
Upwork
Flexjobs
LinkedIn
99designs
Dribble
People Per Hour
ServiceScape
DesignHill
TaskRabbit
Wrap Up
Freelancing has the potential to turn your life around. Despite what many may believe, the process of finding freelance work doesn't have to be difficult or incredibly intimidating.
More often than not, you simply need to create a profile and build that profile.
The aforementioned best freelance websites for jobs will get you started in the right direction. These will help you build your portfolio while potentially finding long-term gigs.
One site may work better for you than another, so make sure to experiment to find out which platform will have the biggest long-term impact on you.
If you're interested in learning more about the WriterAccess acquirement by RockContent, check out this post.
Find top content freelancers on WriterAccess.
Find top content freelancers on WriterAccess.