In the modern world, marketing a business often means outsourcing content to a third party. Most companies don't have the infrastructure and resources to maintain in-house staff to create content and post it online. That's where freelancers come in.
Freelance sites like Fiverr have become a mainstay for businesses of all sizes. Now, instead of hiring an expensive marketing firm, a brand can pick a freelancer they like and get content on spec. But is Fiverr the best option for finding top-quality talent?
Fortunately, now that everything is online, there are tons of other freelance content marketplaces for businesses to connect with talent. However, we're only going to look at five. Here are five alternatives to Fiverr.
Download this post by entering your email below
5 Top Freelancer Marketplaces
1. WriterAccess
Do you need high-quality copywriting? What about creative graphic design for your next marketing campaign? You can find top-tier talent for both types of projects with WriterAccess.
Best of all, you don't have to spend all your time browsing profiles and portfolios.
Instead, WriterAccess handles things differently by letting AI help you discover the best writer or graphic designer for the job. All you have to do is submit a sample of work you like, and the program will handle the rest. Plus, each writer is vetted and ranked by a star system, so you know you're getting high-quality results.
WriterAccess gives you more control over how you connect with freelancers. And the site offers other content management services, so you can make each new marketing campaign a smashing success.
Through this platform, you can curate a list of top writers you like or assign pieces to individual writers. You can set your budget and get guaranteed revisions until the piece is exactly how you want it. The process works the same for graphic design jobs, so you can sync your efforts and produce content faster.
Finally, WriterAccess ensures all content is original and created by human writers—there's no AI generation going on. The site has a proprietary AI detection system to notify you if anything seems like a program wrote it.
2. Freelancer
Most freelance content will involve writing and graphic design. However, sometimes you need freelancers for other jobs, such as photography, videography, and more.
Freelancer.com lets your business seek out freelancers from a wide selection of industries and skill sets. No matter what kind of work you're trying to do, you can find someone to help you bring your vision to life.
This site uses a bid system, meaning you post a job, and freelancers bid to get it. This system is more competitive than others and can help attract better talent. It also allows you to set your price and get high-quality work without paying for an arm and a leg.
The downside, however, is that you can accept only a certain number of bids. If none of the freelancers work out, you have to browse the site to find someone you like.
Overall, Freelancer is an excellent tool if you want to draw from global talent in diverse fields.
3. Upwork
Like Freelancer, Upwork has been around for a long time and uses a bid system. Also like Freelancer, this bid system has ups and downs. On the upside, you can control how much you pay, and you can get freelancers to compete for your business.
On the downside, the freelancers on the site are not vetted, so you have to rely on their profiles and interactions with them. Overall, the people on Upwork are talented, but there's a relatively large spectrum of well-qualified and unqualified candidates.
Another advantage Upwork offers is finding freelancers from various niches and industries. No matter your business model, you can likely find someone to help you achieve your marketing or operational objectives.
For example, you can hire someone to create a blog post, app, ebook, or anything else you need.
4. Contently
Contently is a content marketing solution that pairs top-level businesses with top-level talent. Some of the largest companies in the world have found success with Contently, which is why it has such a high profile.
Unlike a generic bidding marketplace, Contently has its own staff of editors who sift through hundreds of portfolios to find a suitable writer for your needs. Since the pay rates are so high on this site, you can expect world-class writers who are experts within their niches.
However, because of the curation process, you have much less control over who you work with. Also, if you're on a relatively tight budget, you'll find each piece costs a lot more on Contently than on other platforms like WriterAccess or Freelancer.
Overall, if you're an enterprise-level business looking for expert writers, Contently can be an excellent choice. If you're a smaller business or startup, you may not have the budget or time to get highly curated content.
5. People Per Hour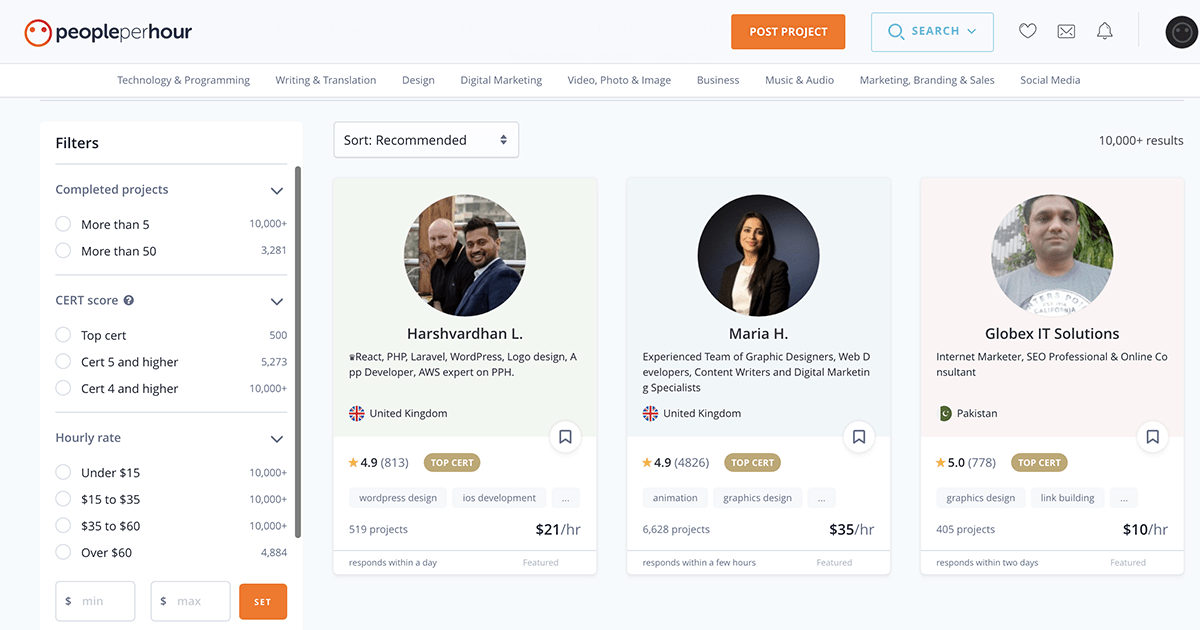 If you're looking for more of a one-to-one alternative to Fiverr, People Per Hour is another suitable option.
This site helps you connect with freelancers from a wide variety of industries. People Per Hour also scores and ranks "sellers" based on their work history and interactions with other businesses.
This marketplace is ideal if you're looking for affordable talent and need a wide range of skill sets. It's pretty easy to filter your search results, and you can also resolve any disputes pretty easily through the platform.
One of the significant downsides of People Per Hour is that individuals are not vetted, and there is no hourly time clock. So, if a freelancer charges by the hour, you have to trust their assessment is accurate. However, you can find some excellent third-party talent if you can work within these limitations.
Get High-Quality Freelance Content
When it comes to writing, SEO, and digital graphic design, WriterAccess is the best option for most businesses. Since you have access to top-quality talent at rates you can afford, you get the best of both worlds.
Plus, WriterAccess' other content management features ensure you can scale up your marketing campaigns quickly and easily. If you're ready to see what WriterAccess can do for your brand, claim your free two-week trial and start experiencing the benefits today!
Find top content freelancers on WriterAccess.
Find top content freelancers on WriterAccess.