Content marketing plays an integral role in lead generation, branding, and product marketing. It's no wonder so many business owners, marketers, and brand owners pay top dollar to outsource their content creation.
It's an expense that's well worth the cost, as 80% of people have spent money on a product due to top-tier content marketing. With so many content creation platforms, it's vital to do your research and choose the best platform for your content marketing strategy.
Scripted is quickly becoming a popular platform for marketers and brand managers to create blog posts, articles, and other marketing materials.
However, this platform presents high prices, a lack of oversight for creating content, and difficulty to find a writer. Because of that, some companies are looking elsewhere to outsource their content creation.
Scripted offers an easy-to-use platform that might seem like a good option at first, but it can quickly lead to wasted time searching for a writer. Fortunately, you can use alternatives to create better-optimized content.
This list below highlights Scripted alternatives for your branding team to explore.
Download this post by entering your email below
5 Top Freelance Writer Marketplaces
1. WriterAccess
WriterAccess is considered one of the best content creation platforms on the market today since it has a thorough screening process for all writers, including a background check on education, experience, and in-person interviews.
Many users find the platform is easy-to-use and time-saving when it comes to finding a writer. WriterAccess uses AI technology to pair writers with clients based on their skills, level of expertise, and writing style.
Overall, this is a great platform for gaining high-quality content with expert writers. It also provides customer service that's client-centered, so marketers can always have their questions answered and seek help during their projects.
If you like a writer or want to work with various writers, you can also create customized "love lists." These love lists make it easy to assign workflows and stay organized.
Lastly, WriterAccess also makes it easy to insert your own outlines and create job postings to find talent. It has one of the most affordable monthly membership plans on the market, making it a great option for smaller and mid-sized businesses.
2. Upwork
Upwork has one of the biggest selections of writers today, with around 1.5 million writers to choose from. While it sounds easy to find writers, it can be difficult for content managers to narrow the search for a competent writer.
Upwork doesn't offer much when it comes to customer service. So, marketers will need to do their own editing, communicate with writers, and negotiate through a bidding process for jobs.
Nevertheless, Upwork has one of the largest collections of writers with different expertise levels. You can choose to pay writers via milestone (meaning by project) or per hour.
In addition, Upwork also allows clients to create thorough job postings to attract potential writers. While you can't get AI-generated picks, as you would on WriterAccess, you can view your writer's reviews and work samples.
Writers have a star rating that makes it easy to make a trusted decision for your project.
3. Contently
Contently is a platform with over 55,000 writers who are at the top of their game regarding expertise, content marketing and creation.
This platform is known for being one of the best platforms for bigger businesses like Google, Walmart, and American Express.
What makes Contently such a standout? The platform thoroughly screens all writers, requesting work submissions and curating only the most talented journalists and writers in the business.
However, they are quite pricey. As a result, they aren't a good option for smaller businesses looking to expand or start their content marketing strategy.
Contently does, however, offer high-quality account management services. This means your account will be expertly managed, and communication will be streamlined between you and your writing team.
Instead of having one writer create content, you can have a team of experts creating ads, white papers, ebooks, articles, and much more.
4. Skyword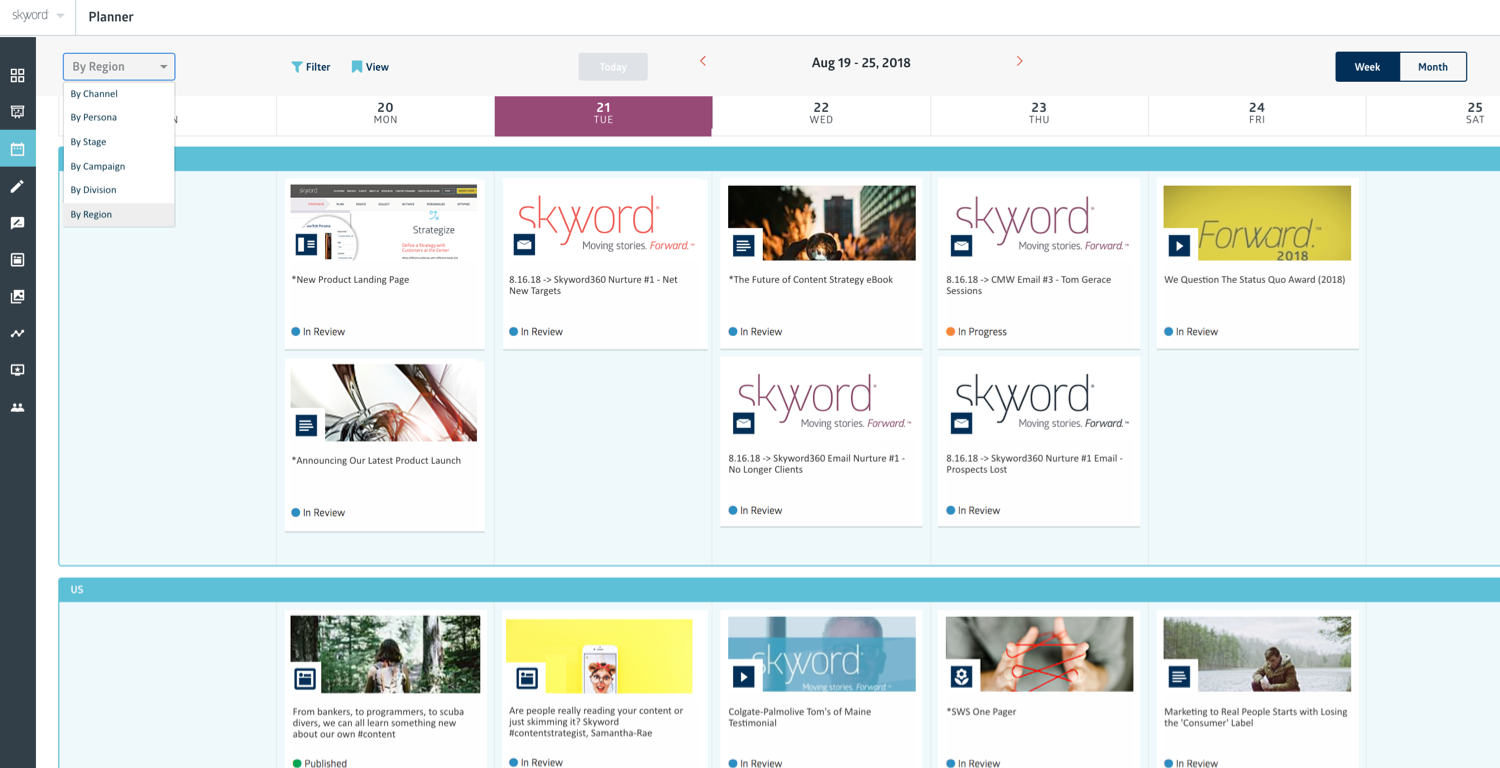 Skyword is an up-and-comer in the content creation field, but it's quickly gaining popularity. This marketplace thoroughly screens all writers and has niche experts.
This means you can find anything from experts in health to beauty, finance, personal training, and much more. Having a niche team of writers makes it easy to find talented writers for your projects.
Skyword also offers account management and other services like analytics and content audits. Requesting content audits can help you improve your SEO and fully optimize content so you can get more out of your content and ensure it performs better.
Their data and insights services provide an overall view of your brand and how it matches up to other companies. Learn what your audience thinks of your brand, where you can improve, and positioning recommendations for your marketing strategy.
5. Zerys
Zerys is an award-winning content creation and planning platform where marketers can find over 85,000 talented writers ready to work.
Your company can get help writing white papers, articles, and e-books that are instantly published on your websites through WordPress integration.
Zerys also makes it easy to customize your subscription plan. It gives you the option of technical or non-technical blogs to choose from. You can choose from either managed content services or DIY writing platforms to find the best prices for your business.
Explore the Best Scripted Alternatives Today
While Scripted has its fair share of fans, more marketers want an easy-to-use platform that takes the guesswork out of finding a talented writer.
At WriterAccess, we make it easy for you to find an expert content creator for your next project. You'll have a team of customer service agents by your side to help manage your account and make communicating with writers easy.
Try out the 14-day trial at WriterAccess today! Get started creating optimized and authoritative blog posts, white papers, e-books, and more!
Find top content freelancers on WriterAccess.
Find top content freelancers on WriterAccess.